About Convault Tanks
The picture below shows one of the many safety features of the Convault tank, when at one of the Companies US installations, lightning strike started an absolute catastrophic chain of events resulting in this inferno where flames leapt up to 600m in the air.
When most things in the general vicinity were destroyed, not so the Convault tank which apart from a bit of external pitting and scorching, still held its flammable contents 100% intact.
Convault tanks are superior in many ways to their competitors, some of these advantages are:
Self bunded.
Easy of installation.
Fire rated to 4 hours.
10 year manufacturers warranty.
Range of sizes, configurations and colours.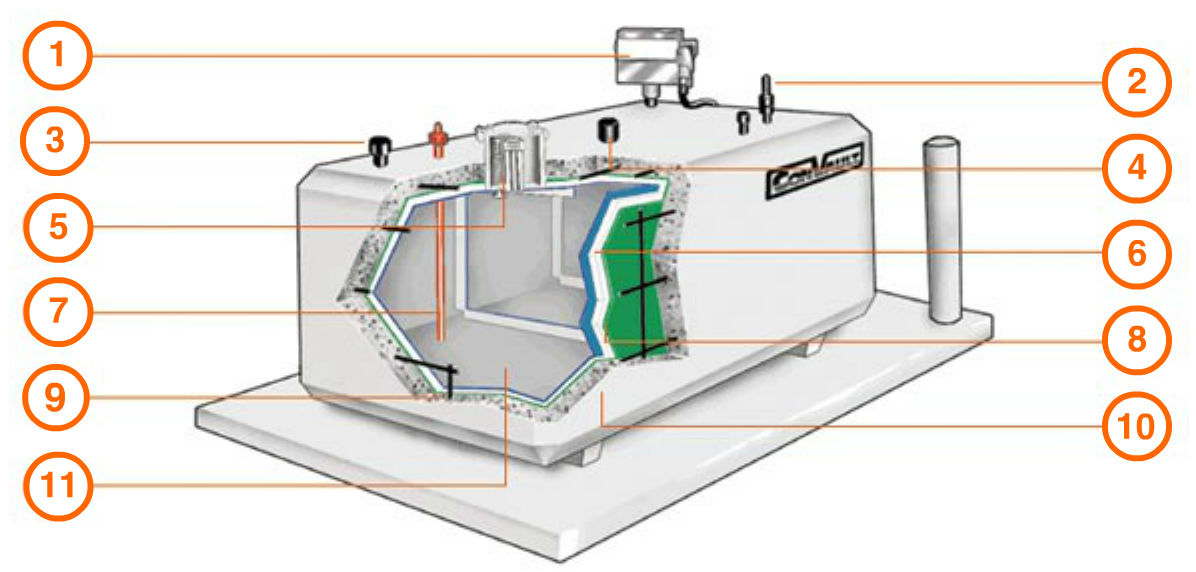 The Convault Aboveground Storage Tanks (AST's) are engineered to the world's highest standards including Australian and the USA Underwriters Laboratory Standard. Convault protected tanks are installed in facilities throughout USA, Canada, Europe, Japan and Australia.
Utilizing patented manufacturing procedures the tanks for flammable and combustible liquids are seamlessly encapsulated in 150 mm thick reinforced concrete vault with integral secondary containment, thermal stability, vehicle impact and projectile protection.
ConVault protected AST's meet all safety requirements for primary and secondary containment, leak monitoring, spill containment and overfill protection. Again, the world's best!
---

1. Dispensing Unit
A compact cabinet unit for top or side mounting is available. A direct drive positive displacement pump delivers up to 56 litres per minute. Unit is supplied with 3.5 metre hose and automatic nozzle as well as a mechanical manual reset meter. SmartFill fuel management system also available to incorporate with Dispensing Unit
2. Level Indicator
An external level indicator allows operators to observe contents level at a glance. As of January 2005 an overfill alarm will be provided as a standard feature.
3. Vents
All diesel tanks are provide with normal free vents and PV V for petrol and other flammable liquids.
4. Emergency Vent
All tanks are provided with emergency vents as standard.
5. Spill and Overfill Containment
A spill and overfill containment hatch ensures against accidental spills. A unique manual return valve allows contents to be returned to the tank. As of January 2005 a positive restriction valve will be fitted to the fill pipe (within the hatch) to protect against overfilling.
6.Thermal Protection
Insulation minimises vapour loss and viscosity problems due to temperature variations.
7. Leak Protection Assurance
"Through tank" Leak Protection assures the interstitial space can be mechanically or electronically monitored for peace of mind. The elevated tank also allows for visual confirmation of tank integrity.
8. Triple Barrier Leak Protection
Convault tanks are constructed of a steel primary tank, polyethylene membrane encasing primary tank and a 150 millimetre thick reinforced concrete vault. This provides a triple tiered level of protection against leaks.
This high level of protection means that external bunding is no longer required.
9. Concrete Vault
Reinforced 150mm thick high strength concrete vault provides impact and thermal protection. The concrete vault provides a fire rating in accordance with AS. 1940 and UL - 2085.
10. Weather Resistant
A variety of finishes are available. A textured concrete render blended with selected colours is the most common. Alternatively, an exposed aggregate finish surface which is sealed with an acrylic clear coating. Also a flat painted finish is available if required.
11. Guaranteed Long Life
The steel tank is manufactured to AS.1692 and pressure tested. The tank is isolated from the concrete to assure corrosion protection. The steel tank carries a ten year warranty.
UL-Compliant
Convault Tanks manufactured by Convault Australia are compliant to Underwriters Laboratories (UL) of U.S.A. Therefore all tanks manufactured after December 2004 are compliant.